DJI Drone Expert
Approved Vendor
Premium Pilot
Join

May 27, 2017
Messages

3,270
Web
My
free online flight log viewer
can be used to process and view flight log data from DJI TXT flight logs (from any version of DJI GO, DJI Fly, or apps using the DJI SDK), Litchi CSV flight logs, or Map Pilot CSV flight logs. These flight logs are automatically created on your mobile device when flying. After retrieving the TXT/CSV flight log from your mobile device and uploading it
here
, the data will be displayed in a format like this: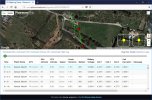 Here are some things you'll be able to do after uploading your flight log:
View the flight path of your drone on a Google map
View important flight details in the table below the map
Drag the slider at the top of the table to replay your flight
See the location of the remote controller sticks at the bottom, right corner of the map
Download a KML file to view your flight path in Google Earth
Download CSV files that contain more columns of flight data
Share your flight log with other people
I'll use this thread to keep track of changes made to my log viewer. If you have any suggestions to improve it or run into any trouble using it, please post below.
BTW, if you're processing a large amount of flight logs, doing commercial drone work, and/or want to keep your flight logs private,
Flight Reader
might be a better option for you.
Change Log:
See the recent posts below for a list of new features, changes, and/or fixes.
Last edited: