Well-Known Member
Premium Pilot
Join

Jul 18, 2019
Messages

1,426
Age

56
Loc
A double bill of sorts
Hope you enjoy!
First one is the fleet heading out from the wharf to the mouth of the harbour. One boat leads the way much in the same way a pace lap works in auto racing.
Footage was taken with my P4.
The second video shows a number of boats back at the wharf four hours later to pick up their 2nd load of traps.
Sparky did all the footage for this one.
Similar scenes would be happening at different ports all along the north and about half of the south shore of the Island. About 1200 lobster fishers work out of PEI's 45 ports; carrying on a tradition that goes back generations.
--------------------
Today was "setting day" for the spring lobster fishery here on PEI. Each boat has 300 traps to set which will require at least two runs to set them all. Shots were taken at Northport, near Alberton.
This is the first load heading out towards the mouth of the harbour, shot via P4. There's about 4x as many boats coming from behind that aren't in the shot. Didn't take many pics, as was more focused on getting video.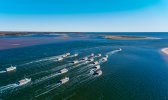 Here's a Spark shot of some boats getting their second load put onboard. Takes about 2-4 hrs to get the first load off depending on how far away your gear is. Most are within 10 miles or so of their homeport.

Another one from Sparky, using GO 4's horizontal pano mode (9 shots) with some crop, stitched with PTGui.

As mentioned, I have some video to share as well once it gets chopped up. Will finally get myself a "feed" of lobsters tomorrow, GOD WILLING!
Last edited: